Whether it is an arena, ballpark or stadium there are certain features that make one stand out from the rest when watching a game on TV or actually being there in person. Although unusual, the court at the Target Center may be one of these features as it has a parquet floor, one of only three in the NBA. This type of flooring is of mosaic wood that is fitted together using tongue and groove wood.
The Minnesota Timberwolves were part of the late 1980s expansion of the NBA along with four other teams. After being awarded a team, the city constructed a new basketball arena in downtown Minneapolis. However, the arena was not ready for the Timberwolves first season in 1989-90. During their first season they played their games at the Metrodome, home of the Minnesota Twins (MLB) and Vikings (NFL). Here they attracted some of the largest crowds in NBA history.
FACTS & FIGURES
-Opened: 10/16/1990
-Capacity: 20,500
-Tenants: Minnesota Timberwolves (NBA)
-Cost: $104 million
-Architect: KMR Architects
-Address: 600 First Ave. North, Minneapolis, MN 55403
-Former Name(s): None
Seating Chart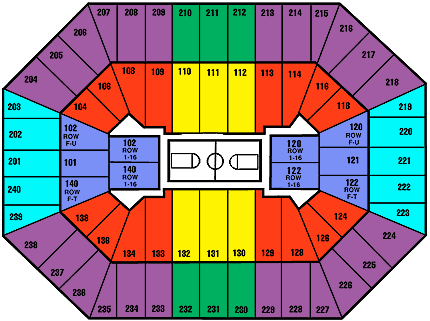 The Timberwolves moved into the Target Center the following season. They played their first game here on October 16, 1990 against the Philadelphia 76ers. Located in downtown Minneapolis, the Target Center originally had a seating capacity of just over 18,000. Over the next decade fans attending games at the Target Center saw few changes or renovations. However, in 2004 the Timberwolves home underwent significant changes. This included replacing all the seats, adding 1,500 seats to the lower level, constructing Club Cambria (a luxury lounge) and installing new video/scoreboards. Today the Target Center has a seating capacity of 20,500 that includes 68 luxury suites.
Did you enjoy this arena?
Leave a review below!
Target Center
Average rating:
0 reviews