Traditionally, the State of Oklahoma is known for its collegiate athletics as the Sooner State is home to the University of Oklahoma and Oklahoma State. In 2008 this changed as the NBA's Oklahoma City Thunder became the state's first professional sports franchise. For decades citizens throughout Oklahoma have been strong supporters of minor league and collegiate sports programs.
As early as 1993, Oklahoma City proposed building a new sports and entertainment facility as part of their capital improvement plan. In 1999 construction of a new sports arena began as the city hoped to land a NBA or NHL team. Three years later the arena was completed and named the Ford Center after the Oklahoma Ford Association and Dealerships bought the naming rights. Once completed, the Ford Center became the home of the Central Hockey League's Oklahoma City Blazers and numerous sporting events from Oklahoma State and the University of Oklahoma.
FACTS & FIGURES
-Opened: October 29, 2008 (NBA)
-Capacity: 19,599 (NBA)
-Tenants: Oklahoma City Thunder, Oklahoma City Blazers (CHL)
-Cost: $89 million, $121.6 Million (renovations)
-Architect: Benham Companies
-Location: 100 West Reno,
Oklahoma City, OK 73102
-Former Name(s): Ford Center
Seating Chart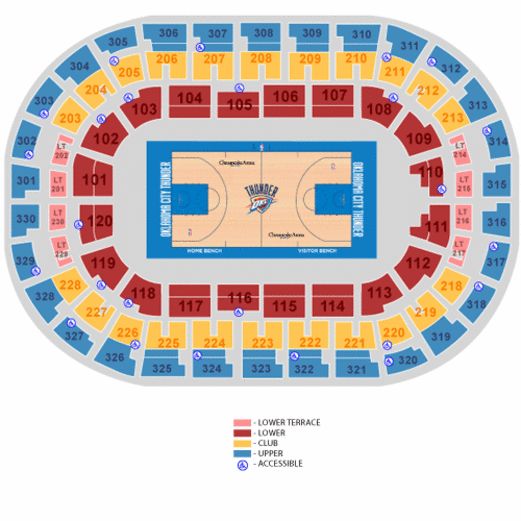 For two seasons, 2005-06 and 2006-07, Oklahoma City was the temporary home of the New Orleans Hornets after their home, the New Orleans Arenas, suffered damage from Hurricane Katrina. The city and citizens of Oklahoma City welcomed the Hornets to the Ford Center while the New Orleans Arena was repaired. After the 2006-07 season, the Hornets moved back to New Orleans. In 2006, Oklahoma City businessman Clay Bennett bought the Seattle Supersonics. Bennett tried unsuccessfully to have a new arena built in Seattle. In November 2007 Bennett filed a request with the league to relocate the team to Oklahoma City and the Ford Center. On March 4, 2008 Oklahoma City voters approved a sales tax extension to fund $121.6 million in improvements to the Ford Center and build a practice facility in hopes of luring an NBA team. Improvements to the Ford Center included roof top gardens, skyboxes, restaurants and a 12,000 square foot family-fun zone. On July 2, 2008 a Seattle judge ruled that the Sonics could move to Oklahoma City for the 2009-10 season as part of a settlement with the City of Seattle. The Sonics paid $75 million to the city in exchange for the immediate termination of the lease. The team's name and colors will stay in Seattle. The franchise was renamed the Oklahoma City Thunder.
On October 29, 2008 the Thunder played their first game at Oklahoma City's Ford Center against the Milwaukee Bucks. For basketball, the Ford Center has a seating capacity of 19,599. Four levels of seats enclose the court and include over 3,000 club seats and 49 luxury suites. In July 2011 the Ford Center was renamed Chesapeake Energy Arena after the Chesapeake Energy Corporation purchased the naming rights for 12 years.