Throughout sports today, nearly every stadium or arena's name has been sold to a corporate sponsor. In the NBA there are only a few arenas that are not like this, including the Portland Trailblazers home, the Rose Garden. In 1970, the Portland Trailblazer were formed as an expansion franchise and began playing at Memorial Coliseum. For more than two decades the team played at the 12,000 seat arena. By the early 1990s as the team became more successful, attendance increased and the need for a larger venue became apparent. Owner of the Trailblazers, Paul Allen built a new arena for his team paying for most of the arena himself through loans and bonds. Construction of the new arena began in 1993.
FACTS & FIGURES
-Opened: 11/3/1995
-Capacity: 20,340
-Tenants: Portland Trailblazers (NBA)
-Cost: $262 million
-Architect: Ellerbe Becket
-Address: 1 Center Court, Portland, OR 97227
-Former Name(s): None
Seating Chart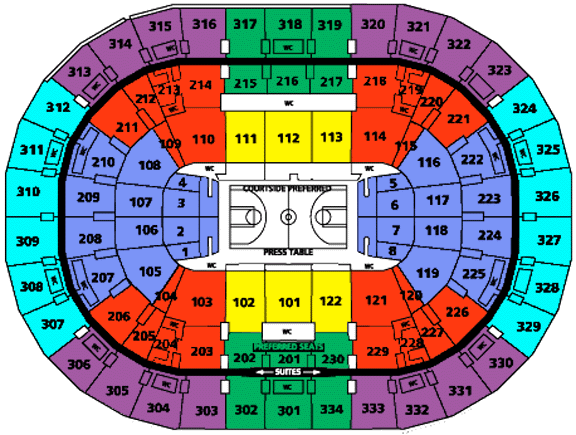 Unlike most other teams in the NBA, the naming rights to the Trailblazers new home was not sold. The team decided to name the arena after Portland as it is known as the Rose City and used the word, garden, because the word was often used as part of old arenas' names. The Portland Trailblazers played their first game at the Rose Garden on November 3, 1995 against the Vancouver Grizzlies. Originally, the arena had a seating capacity of over 20,000 fans but has since been reduced to 19,980 that includes 70 luxury suites and over 2,300 club seats. As fans walk the concourses of the arena they are able to learn the history of the team as banners from Memorial Coliseum and pictures of great Trailblazers moments. Several amenities can be found at the Rose Garden including the Rotunda Sports Bar, outdoor terraces and the Rose Room, a banquet facility. Throughout the 1990s fans attending games at the Rose Garden saw one of the best teams in the NBA and hope that this can be repeated in the coming years.
Did you enjoy this arena?
Leave a review below!