The Can as it is known to Denver Nuggets fans, the Pepsi Center is the place to be during the winter months in the Mile High City. The Nuggets have been a part of the NBA since 1974 when they moved from the American Basketball Association. One year after becoming part of the NBA the Nuggets began playing at McNichols Sports Arena. The 17,000 seat arena was the home of the Nuggets and two NHL teams, the Colorado Rockies and later the Colorado Avalanche. Like every other team in the NBA and NHL, a new arena was needed for both teams in order to remain competitive in both leagues. Construction began in November 1997 and was named after Pepsi bought the naming rights for $68 million.
FACTS & FIGURES
-Opened: 11/2/1999
-Capacity: 19,099
-Tenants: Denver Nuggets (NBA), Colorado Avalanche (NHL)
-Cost: $160 million
-Architect: HOK Sport
-Address: 1000 Chopper Cr., Denver, CO 80204
-Former Name(s): None
Seating Chart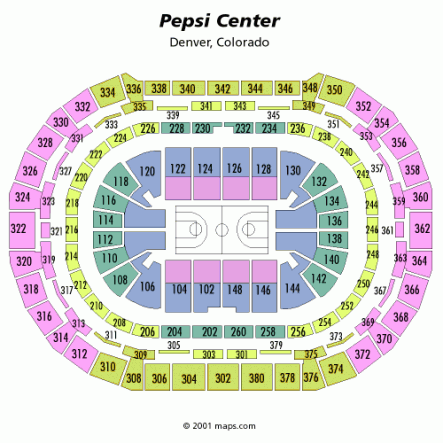 In 1999 the Nuggets played their first game at the Pepsi Center. The arena has a seating capacity of just over 19,000. It features 95 luxury suites, 1,800 club seats, the Lexus Club, the Blue Sky Grill featuring western crusine and The Denver Post Newsroom. Outside, the Pepsi Center's façade reflects the neighborhood brick buildings and old rail yard. Fans enter through two atriums that have sculptures of basketball and hockey athletes in poses. Inside the Pepsi Center fans can see the Rocky Mountains and downtown Denver.
Did you enjoy this arena?
Leave a review below!
InsideArenas.com
Average rating:
0 reviews