Few teams in the NBA can say that they have had the same amount of success as the Utah Jazz have had at Energy Solution Arena. Since the team's move to this arena more than 15 years ago, the Jazz have had only one losing season. After the Jazz moved from New Orleans after the 1978-79 season they began playing at the Salt Palace. For just over a decade they played at the 12,0000 seat arena. As the 1990s approached, a new modern arena with more seats was needed for the Jazz. Owner of the team, Larry Miller, funded the $93 million cost to construct a new arena.
FACTS & FIGURES
-Opened: 11/7/1991
-Capacity: 19,911
-Tenants: Utah Jazz (NBA)
-Cost: $93 million
-Architect: Ellerbe Becket
-Address: 301 West South Temple, Salt Lake City, UT 84101
-Former Name(s): Delta Center
Seating Chart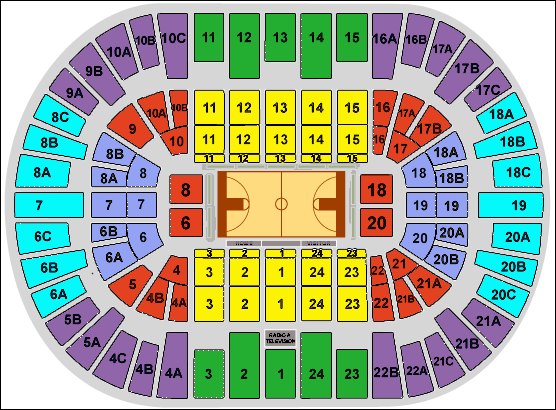 Construction began in May 1990 and was completed in record time, 17 months later. Originally known as the Delta Center, the Jazz played their first game at the arena on October 4, 1991. Located on the western part of downtown Salt Lake City, the arena has a seating capacity of 19,911 that includes 668 club seats and 56 luxury suites. In August 1999, the roof was significantly damaged by a tornado, causing $3.75 million in damage. Energy Solutions bought the naming rights to the arena in November 2006, thus it is known as Energy Solutions Arena. The Utah Jazz have been one of the best teams in the NBA while playing at Energy Solutions Arena, appearing in the playoffs 13 times in 16 years.