Since the 1990s over two dozen NBA arenas have been built around the country. Most have the same design with luxury suites and other modern amenities circling the entire court. However Philips Arena, home of the Atlanta Falcons, breaks away from the traditional design as all the luxury suites are located on one side of the arena. The history of the Hawks dates back to 1946 when they were known as the Tri-Cities Blackhawks, playing in Illinois. The team later moved to Milwaukee in 1951 and St. Louis in 1955 before moving to Atlanta in 1968. While the Hawks new arena, the Omni Coliseum was being built, the team played at the Alexander Memorial Coliseum. The Hawks moved into the Omni in 1972 where they played at for 25 years. It had a seating capacity of 16,000 but became outdated by the 1990s because it lacked luxury suites, a club level and was also deteriorating. Owner of the Hawks, Ted Turner, lobbied for a new arena for the Hawks. He succeeded and a new arena was constructed on the site of the Omni. It was demolished in 1997 and construction on the Hawks new arena began immediately as the team played at the Georgia Dome for the next two seasons.
FACTS & FIGURES
-Opened: 10/6/1999
-Capacity: 18,729
-Tenants: Atlanta Hawks (NBA), Atlanta Thrashers (NHL)
-Cost: $213.5 million
-Architect: HOK Sport
-Address: 1 Philips Drive, Atlanta, GA 30303
-Former Name(s): None
Seating Chart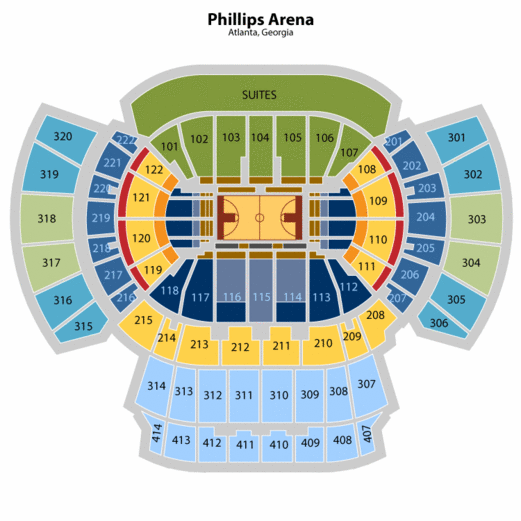 Named Philips Arena after Philips Electronics, the Atlanta Hawks played their first game at their new arena in 1999. Philips Arena also became home to Atlanta expansion NHL franchise, the Thrashers. The home of the Hawks has a seating capacity of over 18,000 with 92 luxury suites and 1,866 club seats. What makes Philips Arena different from other NBA arenas is that all of the luxury and club seats are on one side of the arena. This brings all the other seats closer to the action instead of pushing the upper deck higher and further from the court. Philips Arena has many amenities and activities for fans. The Philips Experience is a 10,000 square foot area that features hands on activities. This area includes the Atlanta Hawks Kidszone where kids can play during games. At the Hawk Walk, fans can find the Team Gear Store and can grab a bite to eat at the food court. Although the Hawks have not been successful since moving into Philips Arena, the team and fans hope this will change in the coming years.
InsideArenas.com
Average rating:
0 reviews