In many people's eyes something that is less than 20 years old would be young. However, when it comes to NBA arenas, the Bradley Center is the third oldest basketball facility in the NBA even though it is less than 20 years old. The Milwaukee Bucks were formed in 1968 and began playing at the MECCA, now known as the US Cellular Arena, for nearly two decades. With a capacity of 12,700 the MECCA was one of the smallest arenas in the NBA. During the 1980s the team began to seek a new arena. No public funding was needed for a new arena as Jane Petit and Lloyd Petit donated $90 million to the State of Wisconsin, in honor of their father Huey Bradley, for the construction of a new arena.
FACTS & FIGURES
-Opened: 10/1/1988
-Capacity: 18,717
-Tenants: Milwaukee Bucks (NBA)
-Cost: $90 million
-Architect: HOK Sport
-Address: 1001 N. 4th Street, Milwaukee, WI 53203
-Former Name(s): None
Seating Chart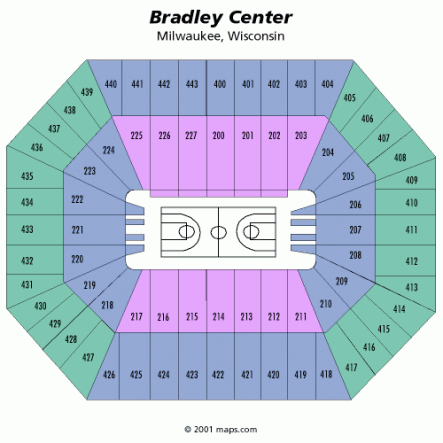 In October 1986 construction began on the Bradley Center in downtown Milwaukee. Completed in just two years, the Milwaukee Bucks played their first game at the arena in October 1988. The Bradley Center has a capacity of 18,717 and includes 68 skyboxes that are located between the upper and lower levels. Not only is the facility home to the Milwaukee Bucks, but is home to Marquette University and the Milwaukee Admirals (AFL).