For nearly a century the borough of Brooklyn has been known by sports fans as the former home of the Brooklyn Dodgers and Ebbets Field. That changed in 2012 as professional sports returned to Brooklyn as the Nets moved from New Jersey to the Barclays Center. For 35 seasons, the Nets played at the Izod Center and most recently at the Prudential Center. The idea for a new arena in Brooklyn was first proposed in 2004 by then owner of the Nets Bruce Ratner. Financing and eminent domain issues delayed construction of the arena for six years. Groundbreaking occurred on March 11, 2010. Barclays PLC purchased the naming rights to the arena for 20 years at an estimated cost of $200 million. Built near the Atlantic Terminal Mall, the Barclays Center was constructed near where the Brooklyn Dodgers had proposed building a dome stadium in the 1950s. Built at a cost of $1 billion, the Brooklyn Nets played their first game at the Barclays Center on October 31 against the Indiana Pacers. The arena has a seating capacity of 17,734 for the Nets.
FACTS & FIGURES
-Opened: 10/31/2012
-Capacity: 17,734 (NBA)
-Tenant: Brooklyn Nets
-Cost: $1 billion
-Architect: Ellerbe Becket
-Address: 620 Atlantic Ave., Brooklyn, NY 11217
-Former Name(s): None
Seating Chart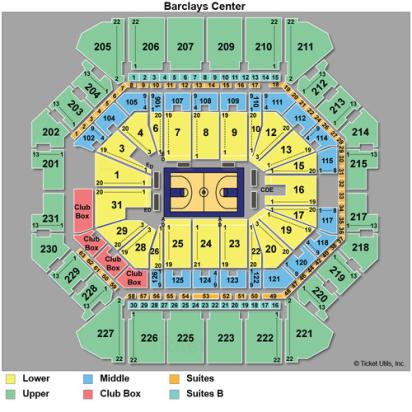 About the Brooklyn Nets
Location: The Brooklyn Nets are a professional basketball team based in Brooklyn, New York.
History: The Nets were originally founded in 1967 as the New Jersey Americans and later became the New Jersey Nets. In 2012, the team moved to Brooklyn, becoming the Brooklyn Nets.
Key Players: The Nets have had several notable players over the years, including Julius Erving, Jason Kidd, Vince Carter, and Deron Williams.
"The Big Three": In the early 2010s, the Nets had a talented trio of players in Joe Johnson, Gerald Wallace, and Brook Lopez, known as "The Big Three."
Brooklyn Move: The Nets' move to Brooklyn marked the return of professional sports to the borough for the first time in over half a century.
Barclays Center: The Nets play their home games at the Barclays Center, located in the heart of Brooklyn.
Community Outreach: The Nets are active in the community, with programs such as the NetsCare charity, which focuses on education, health, and wellness initiatives for children and families in the Brooklyn area.
Current Star Players: The Nets currently have several star players, including Kyrie Irving, James Harden, and Kevin Durant.