Throughout their history, the Houston Rockets have been one of the best NBA franchises compiling 25 winning seasons since moving to Houston from San Diego in 1971. This continues today as the Rockets have one of the best players in the NBA, Yao Ming, and play at one of the best NBA arenas, the Toyota Center.
For more than 25 years the Rockets played at the Compaq Center, a 16,000 seat facility that was southwest of Houston. During the mid 1990s the Rockets, Houston Astros (MLB) and Houston Oilers (NFL) wanted new state of the art facilities built.
The Astros were able to get Minute Maid Park built in downtown Houston, while the Oilers moved to Nashville after failing to get a new football stadium built (Reliant Stadium was later built). The Rockets wanted to replace the Compaq Center because it lacked luxury suites and other modern amenities that other arenas in the NBA had. They were able to get a new modern arena built by using existing hotel and car rental taxes and by paying $105 million through future rent in order to get it built.
FACTS & FIGURES
-Opened: 10/30/2003
-Capacity: 18,300
-Tenants: Houston Rockets (NBA)
-Cost: $202 million
-Architect: HOK, Morris Architects, John Chase Architects
-Address: 1510 Polk St., Houston, TX 77002
-Former Name(s): None
Seating Chart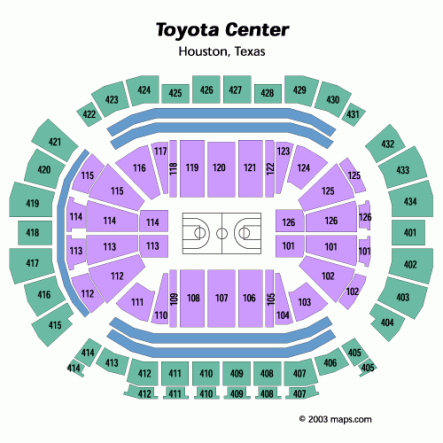 Construction of the Toyota Center, located in the eastern corridor of downtown Houston began in July 2001. The Rockets played their first game at the arena on October 30, 2003 against the Denver Nuggets. Most fans that go to games at the Toyota Center enter through the main entrance on the northwest side of the building. Here is a massive atrium that once inside, fans receive views of the skyline of Houston.
Unlike many other NBA arenas, fans with tickets to seats on the lower level do not have to go up in order to their seats because the court is 32 feet below street level. Because of this, the Toyota Center has the largest lower level in the NBA. The building has a seating capacity of over 18,000 that includes 2,900 club seats and 103 luxury boxes. Fans attending games can visit the Lexus Lounge or the Red and White Wine Bistro restaurant. Many fans hope that the Rockets can win several NBA Championships at the Toyota Center like they did while playing at the Compaq Center in the 1990s.
Did you enjoy this arena?
Leave a review below!
Toyota Center
Average rating:
0 reviews