Also known as the Smoothie King Center, located in the Big Easy, the New Orleans Hornets returned to the New Orleans Arena permanently this season for the first time since the 2004-05 season. For 14 seasons the Hornets played in Charlotte at the Charlotte Coliseum.
Although the Hornets were competitive towards the end of their stay in Charlotte, attendance at games dwindled and the Charlotte Coliseum lacked many of the modern amenities found in other NBA arenas. Owner of the team, George Shinn became discontent with the city's effort towards getting a new arena built and therefore moved the Hornets to New Orleans after the 2001-02 season.
FACTS & FIGURES
-Opened: 10/19/1999
-Capacity: 18,000
-Tenants: New Orleans Hornets (NBA)
-Cost: $84 million
-Architect: Arthur Q. David & Partners, Billes-Manning
-Address: 815 Girod Street, New Orleans, LA 70113
-Former Name(s): None
Seating Chart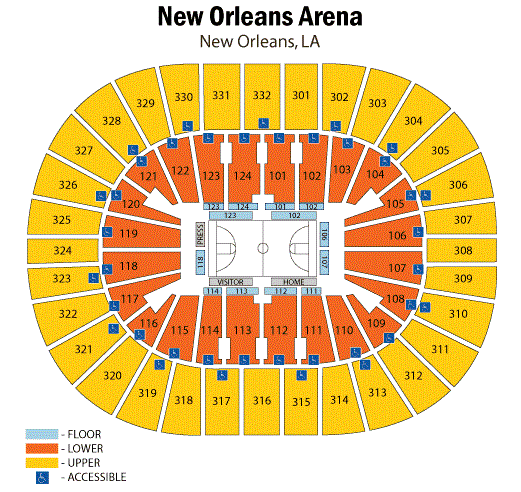 More than 20 years before the Hornets moved to New Orleans, the city had a NBA team, the New Orleans Jazz. They played in the city between 1974 until 1979 before moving to Salt Lake City, Utah. Throughout the next several decades exhibition basketball games were played sporadically in New Orleans. In the mid 1990s, the city decided to build a new arena adjacent to the New Orleans Superdome.
Constructed at a cost of $84 million, the octagonal shaped building was completed in 1999. The first game played at the New Orleans Arena was a hockey game on October 29, 1999. NBA basketball returned to the city permanently when the Hornets moved to New Orleans and played their first game at the New Orleans Arena October 30, 2002.
Although the building was less than five years old, the city spent $10 million upgrading the New Orleans Arena for the Hornets. Locker rooms were upgrade, additional luxury suites were added, and a courtside restaurant and team store were built.
Because of the devastating events of Hurricane Katrina in August 2005, the Hornets moved their basketball operations to Oklahoma City and the Ford Center where they played the majority of their games for the next two seasons. Several games were held in New Orleans during the 2005-06 and 2006-07 seasons to show the team's commitment to playing in the city.
The New Orleans Arena suffered little structural damage after the hurricane because of its arched reinforced steel and concrete roof. The Hornets returned to New Orleans permanently for the 2007-08 season and the city hosted the 2008 NBA All-Star Game.
The New Orleans Hornets renamed the team and became the Pelicans at the end of the 2012–13 season. The Charlotte Hornets returned back to Charlotte, and the Bobcats became the Hornets on May 20, 2014.
Did you enjoy this arena?
Leave a review below!
New Orleans Arena
Average rating:
0 reviews