Nicknamed the AAC, American Airlines Center, home of the Dallas Mavericks is one of the best arenas in the NBA. The Dallas Mavericks were founded in 1980 and began playing during the 1980-81 season. For over 20 seasons the Mavericks played at Reunion Arena, a 17,000 seat facility that was also the home of the Dallas Stars (NHL). Towards the end of the 1990s both the Mavericks and Stars wanted a new arena because Reunion Arena had become outdated. The city and both teams worked together as a new hotel and car rental tax was passed, along with the teams paying their share, helping pay for the $420 million arena. American Airlines bought the naming rights in 1999 for $195 million.
FACTS & FIGURES
-Opened: 10/30/2001
-Capacity: 19,200
-Tenants: Dallas Mavericks (NBA), Dallas Stars (NHL)
-Cost: $420 million
-Architect: David M. Schwarz, HKS, Inc.
-Address: 2500 Victory Avenue, Dallas, TX 52102
-Former Name(s): None
Seating Chart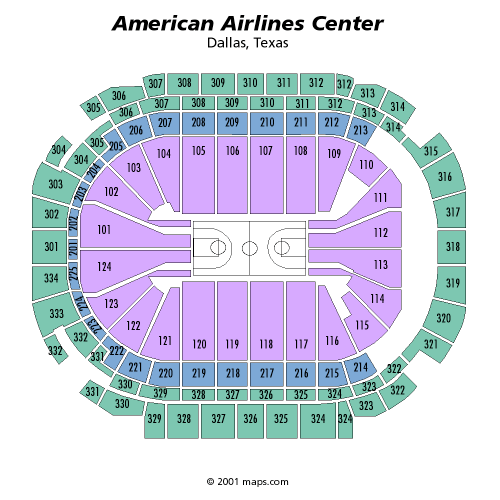 American Airlines Center was constructed in Victory Park in order to help revitalize and redevelop the area into mix use development that includes the arena, housing and commercial spaces. From the exterior, the arena is a massive structure that has a façade of brick and glass arches. Because of the design, American Airlines Center has won numerous architectural awards. The Mavericks played their first game at the arena on October 30, 2001 against the Detroit Pistons. American Airlines Center has a seating capacity of 19,200 with 142 luxury suites and 1,600 club seats. Fans attending Mavericks games can check out the Jack Daniels Old No. 7 Club, the Miller Lite SkyBar and Dr. Pepper Bottling Plant for food and beverages. With an owner that gets very involved into games like Mark Cuban and a team that has had a winning record since moving into the American Airlines Center, Mavericks games are some of the best to attend in the NBA.
Did you enjoy this arena?
Leave a review below!
American Airlines Center
Average rating:
0 reviews