Located in the entertainment capital of the world and with superstars such as Kobe Bryant, the Staples Center is one venue where fans can see NBA basketball on a nightly basis during the season with two teams calling the city and arena home. The Los Angeles Lakers moved from Minneapolis after the 1959-60 season and called the Los Angeles Memorial Sports Arena their home before moving into the Great Western Forum in 1967. The Clippers have called Los Angeles their home since moving from San Diego after the 1983-84 season. Always being known as LA's second NBA team, the Clippers played at the Los Angeles Memorial Sports Arena for 15 seasons, occasionally playing games in Anaheim at the Arrowhead Pond.
FACTS & FIGURES
-Opened: 11/2/1999
-Capacity: 18,997
-Tenants: Los Angeles Lakers & Clippers (NBA), Los Angeles Kings (NHL)
-Cost: $375 million
-Architect: NBBJ
-Address: 1111 S. Figueroa St., Los Angeles, CA 90015
-Former Name(s): None
-Directions/Parking
-Seating Chart
-Local Hotels near the Staples Center
Seating Chart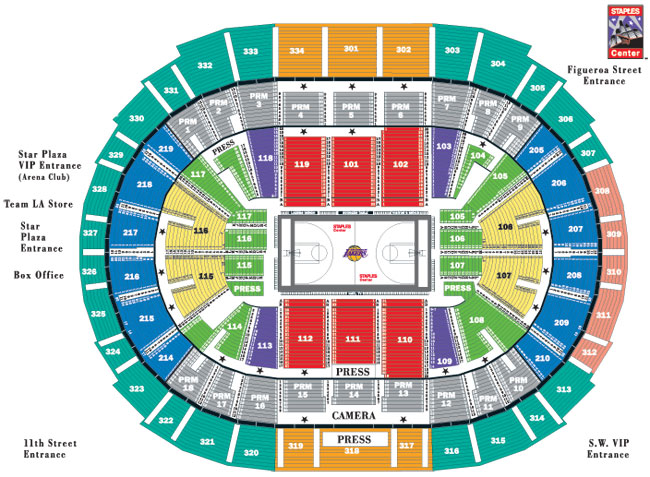 By the 1990s both the Great Western Forum and the LA Memorial Sports Arena had become second rate arenas in the NBA. A new modern state of the art arena with more amenities including luxury boxes and club seats was needed for the Lakers and Clippers. Privately financed, construction of the $375 million Staples Center began in March 1998. Staples Inc. purchased the naming rights for $100 million over 20 years. Built near downtown Los Angeles, the Staples Center became the home of the Lakers and Clippers in 1999. With a seating capacity of just under 19,000, the Staples Center has many amenities that the Lakers and Clippers former home's did not have. It has 160 luxury suites, 2,500 club seats and 32 party suites. Fans attending games at the Staples Center can check out the Fox Sports SkyBox Restaurant, the City View Grille, the Grand Reserve Club and the Team LA store. Since its opening, the Lakers have won three NBA Championships while the Clippers have had one winning season. Thus, the Clippers are still known as LA's second team. Other than being the home of two NBA teams, the Staples Center is home of the Los Angeles Kings (NHL) and many other events.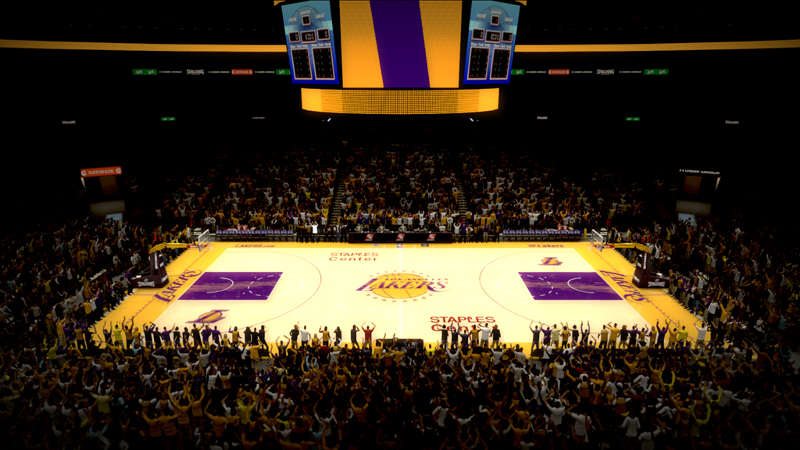 Did you enjoy this arena?
Leave a review below!
Staples Center
Average rating:
1 reviews
Mar 27, 2021
LEBRON IS BEST
LAKERS GOOD CUZ LEBRON!