Although the Phoenix Suns home is nearly 20 years old, it looks as if it is one of the newest arenas in the NBA. Prior to moving into US Airways Center, the Suns played at the 13,000 seat Arizona Veterans Memorial Coliseum. The team had played there since their inception in 1968. By the late 1980s a new large state of the art basketball only arena was needed for the Suns. Construction on the $90 million arena began in 1988 and was paid for through city bonds and loans. Officials from the team toured NBA arenas across the league looking for the best features to incorporate into their new arena. America West paid $26 million over 30 years in 1992 to buy the naming rights to the facility.
FACTS & FIGURES
-Opened: 11/3/1992
-Capacity: 19,023
-Tenants: Phoenix Suns (NBA)
-Cost: $90 million
-Architect: Ellerbe Becket
-Address: 201 East Jefferson, Phoenix, AZ 85004
-Former Name(s): American West Arena
-Directions/Parking
-Seating Chart
-Local Hotels near US Airways Center
Seating Chart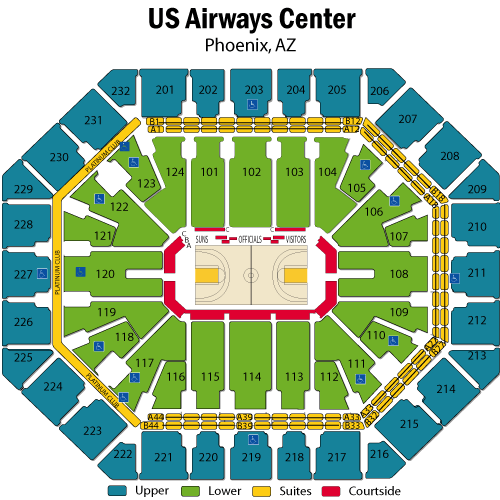 On November 3, 1992, the Phoenix Suns played their first game at America West Arena winning against the Los Angeles Clippers. In November 2005, America West Arena was renamed US Airways Center after US Airways bought America West. The arena has a seating capacity of over 19,000 that includes 2,270 clubs seats and 88 luxury suites. Most fans enter US Airways Center through the Casino Arizona Pavilion that features soaring glass walls that serves as a gathering location. US Airways Center features many amenities including the Lexus Club Lounge and the Verizon Wireless Jungle, an interactive fun and games area for kids. With players such as Steve Nash, fans of the Suns hope that the team can bring a NBA Championship to the City of Phoenix.
Did you enjoy this arena?
Leave a review below!
US Airways Center
Average rating:
0 reviews